Promotional Branded Microfibre Cloths
An NHS lens cloth campaign
Lens cloths for IT students
Beautiful artwork on an Ecology microfiber cloth
Gorgeous coloured artwork
A nice example of lens cloths for jewellery
GWR iPhone/iPad launch on a microfibre cloth
University Library campaign
FT Labs microfiber cloths
Microfibre cloths for Netsch
Microfibre cloths individually packed
A deluxe hotel chain using lens cloths as gifts for guests
Promoting an app on a branded lens cloth
A very nice simple design!
A public health campaign use of microfibre cloths
How cloths are used as business cards
iPhone case manufacturer using a lens cloth to advertise
A chemical group's artwork on a microfibre cloth
Cloths with a simple but effective design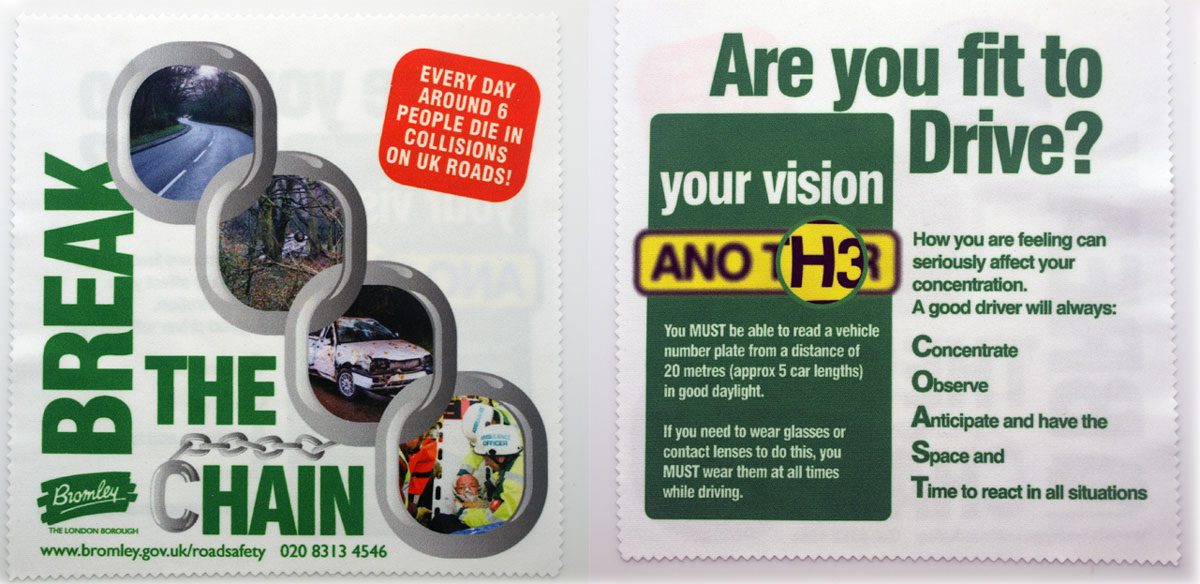 A local authority campaign on a cleaning cloth
Really effective artwork on a microfibre cloth
A musical instrument microfiber cleaning cloth
Effective imagery for a science based company
Binocular microfibre cleaning cloths for birdwatchers
Opticians advertising on a spectacles cleaning cloth
Cloths used to promote a local authority campaign
Styling sessions advertised on a glass cleaning cloth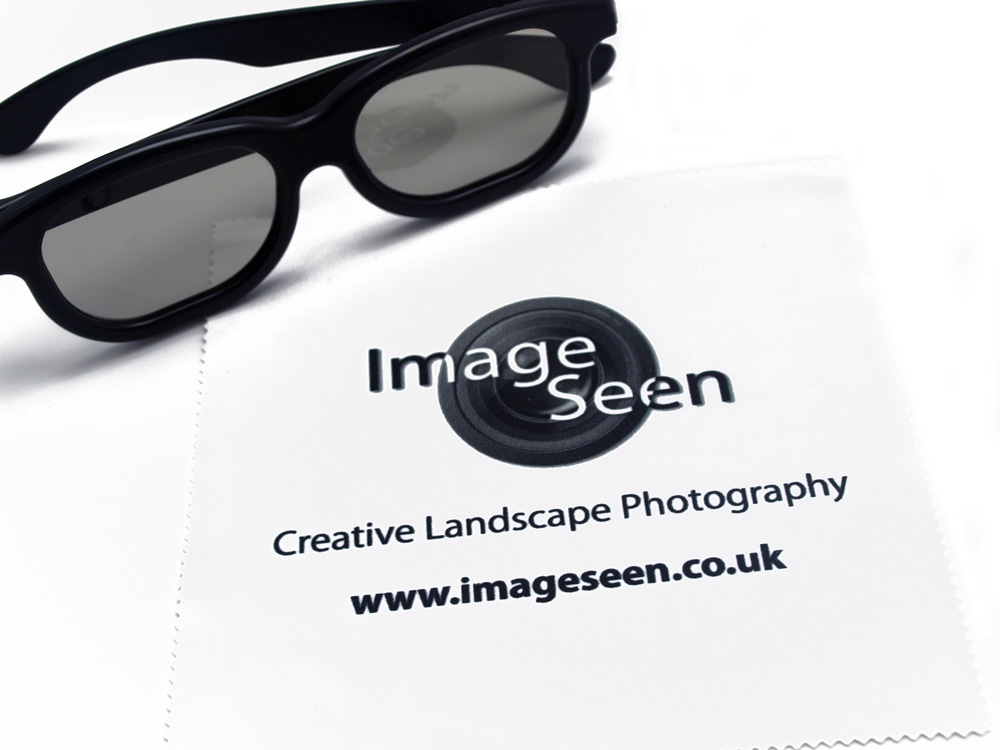 A photography business using one colour artwork on a cleaning cloth
The Sheffield Assay Office lens cloths folded and packed in a polybag
A classic commercial logo effectively presented
Goggleyes logo repeated on a microfibre cloth
Goggleyes cloths now in a vinyl case
Quite lovely photographic artwork
A nice logo for a cosmetic dentistry company
IT company use of a microfibre lens cloth
Effective use of colour on the flag of this 'marine' artwork
A science company using promotional microfibre cloths
Beautiful photographic artwork on this lens cloth
Microfiber cloths are popular in the IT industry!
A repeating logo always gets the message across!
Bright artwork on a lens cloth is always very effective
Dramatic visuals for Aeroflex
Discreet logo in one corner
Elegant artwork here for this IT company
Clear logo in a vinyl bag
Good combination of photography and wording
Subdued colours can work well
Photographs help a campaign
Another optician using lens cleaning cloths
Red can be quite striking!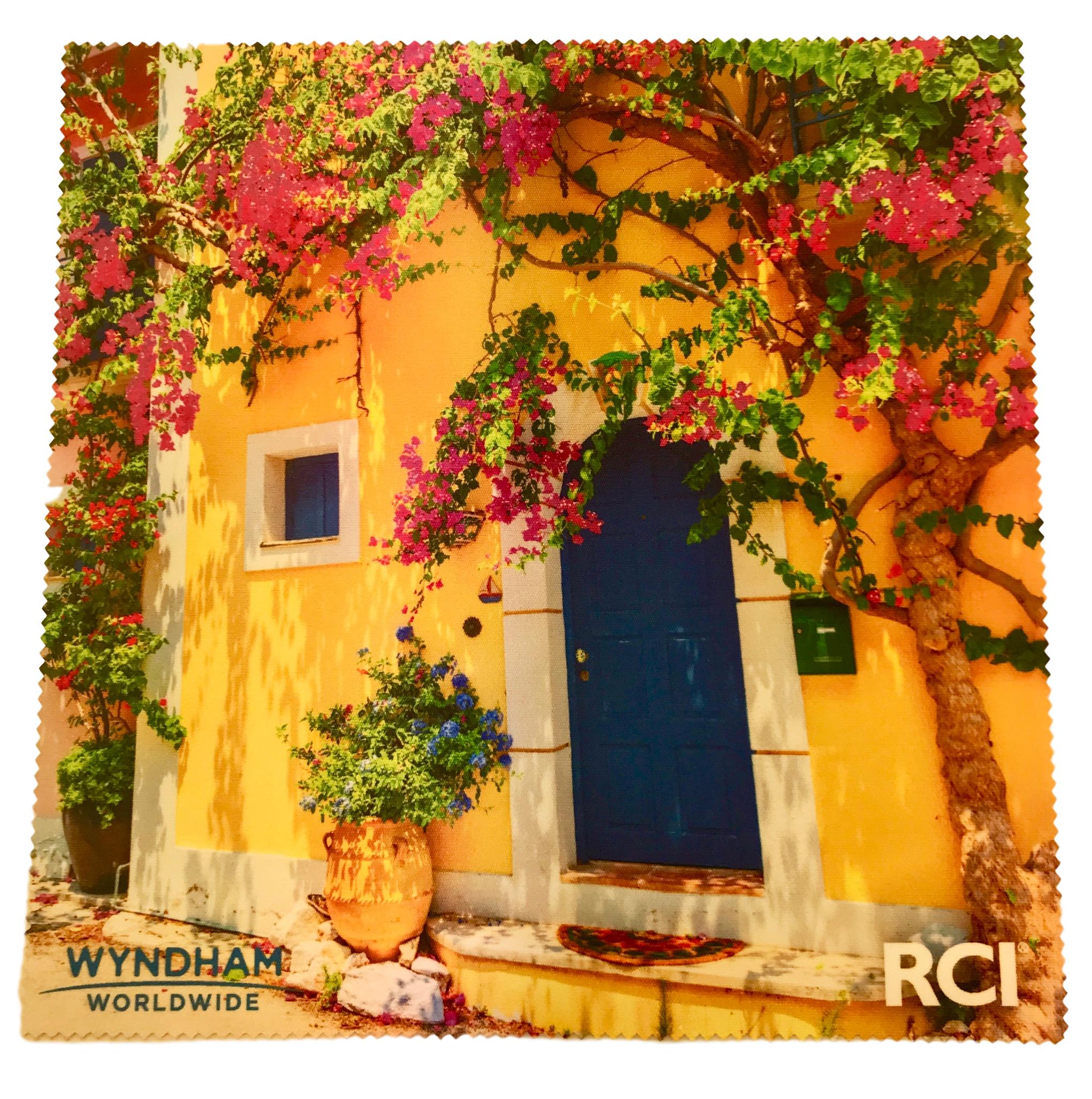 A very colourful lens cloth
Printed cloth in polybag advertising an event
Printed Microfibre Cloth with round edges
Extra large printed microfibre cloth
Printed microfibre cloth with sewn edges
We provide high quality branded microfibre cloths with a variety of size, printing, finishing and packaging options. Please contact us now for a quote. If you would like more ideas and see other products made with microfibre cloth, see below!
you can buy in confidence from us because Our Cloths are produced in a factory that has been tested for harmful substances
Why Use Microfiber Cloths in your promotion or campaign?
EVERYWHERE - in today's world everyone has something that requires cleaning with a microfibre cloth. Your branded promotional microfibre lens cloth will be repeatedly used to clean phones, iPad, laptops, Kindles, camera, mp3 players, specs, jewellery (to name just a few items). The number of gadgets is increasing steadily all the time and they all need cleaning!
IMPACT - a custom printed microfibre (or lens) cloth is a very effective way to market your brand or message because it has a strong visual and tactile impact allied to a high frequency of use.
LOOK & FEEL - a promotional cleaning cloth has a great print area. It has a fantastic tactile 'feel', something that makes it far more likely to be used time and time again.
LONGEVITY - a branded microfibre lens cloth is a long lasting promotional product. Your message will be displayed every time your cloth is used, with your design always on display.
ADAPTABLE - it is a powerful way to project your message, logos, pictures or strap lines. We have even printed a business card on a lens cloth. If you have something small and nice (for example, a badge) to wrap as a gift for your clients, why not use one of our lens cloths?
A BIT ABOUT WHY OUR CLOTHS ARE SPECIAL
TRACK RECORD - we have a proven track record supplying this product with many repeat clients.
QUALITY & PRICE - we supply high quality branded microfibre cloths at a great price.
SIZES - we have a list of standard sizes available but we can also quote on something custom sized if that is what you require.
COLOURS - we digitally print on white cloth (our prices include up to full colour with no setup fee), but we also offer other print options.
RESPONSIBLE MANUFACTURING - you can have confidence that chemical safety standards have been met when you order through us. Our fabric has been approved OEKO-TEX standard 100. To get this certificate every production and processing stage at all sites is assessed for compliance. The certificate covers water effluent, air emissions, energy consumption, water safety, consumer safety, chemical residues and responsible water use.
CLOTH DETAILS - the standard cloth we use has a nice thick quality. It is 120 denier and the weight is 250g per square meter. Composition is 70% polyester and 30% nylon.